Page 12 - NAACOS Membership Brochure
P. 12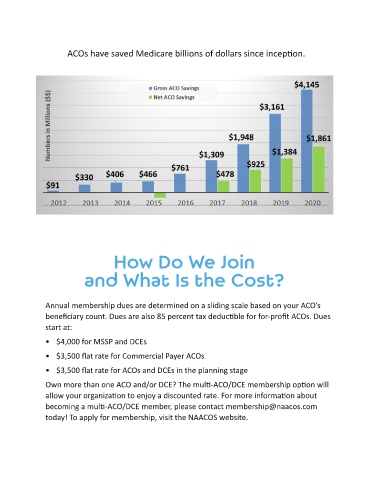 How Do We Join and What Is the Cost?






              Annual membership dues are determined on a sliding scale based on your ACO's
              beneficiary count. Dues are also 85 percent tax deductible for for-profit ACOs.

              Dues start at:

              •  $4,500 for MSSP, Next Generation ACOs and Direct Contracting Entities
              •  $3,500 flat rate for Commercial Payer ACOs


              •  $3,500 flat rate for ACOs in the planning stage
              Own more than one ACO? The multi-ACO membership option will allow your

              organization to enjoy a discounted rate. For more information about becoming a
              multi-ACO member, please contact [email protected] today! To apply for
              membership, visit the NAACOS website.